Youtube favorites:
(From Dead Rose Symphony "Christmas Mourning")
This classic holiday song (by John Henry Hopkins, Jr. 1957) has been reinterpreted by Dead Rose Symphony to reflect the seemingly endless wandering while searching for the newborn child of Mary & Joseph. Listen for a refrain of another seasonal song "I Wonder While I Wander" (John Jacob Niles, 1933) to reinforce the question as to whether the search will ever come to an end.
Three Kings adaptation© 2010 All rights reserved.
This song is adapted from "Ukrainian Bell Carol", part of a larger piece. It was written in 1916 by Ukrainian composer Mykola Leontovich called "Schredryk". It is better known in the Western world as "Carol of the Bells". Originally based on an ancient Ukrainian folk song, written to wish in the New Year, the work was composed during political and social upheaval in the Ukraine. Although the work was re-distributed in 1936 by American arranger Peter Wilhousky (complete with new lyrics that introduced the Christmas theme), Dead Rose Symphony has redone the piece to reflect the darker side of winter, yet with faith of better times to come as it was originally intended.

Though not meant as a political statement, the release of this song coincides with dark economic times on a global level, a ringing of bells that may foretell hard times, or which may reflect a spirit of survival and a herald towards a better future.

Bell Carol Notes and Music © 2008 All rights reserved.
and just for creepy fun...
We thought we would get a bit whimsical this holiday season, and so for you, we present our version of this 1955 Christmas favorite, DRS style.
Nothing For Christmas adaptation © 2008 All rights reserved.
And the quintessential serial killer song:
"Cold Outside" - Christmas Mourning
"Clowns" - Spectral Evidence
Free Download
The Nightstalker - as arranged by Dead Rose Symphony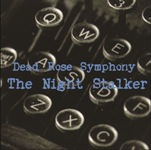 (click on photo to listen)